Introducing LivetrackerPro: Revolutionizing Your Football Experience with TheSports
TheSports team is thrilled to announce the launch of a new version of Live Tracker widget - LivetrackerPro, a comprehensive product overhaul designed to elevate your sports business to new heights!
The quality of this new version has seen a significant improvement through technological advancements. The upgraded Live Tracker integrates five data modules, including Live Stats, H2H, Lineups, Timeline, and Standing. This enhancement empowers users to effortlessly access critical pre-match and real-time match information while enjoying engaging live broadcasts.
TheSports' Live Tracker offers diverse data coverage, catering to the demands of sports fans. It provides real-time updates on match stats, offensive incidents, and more than 14 significant in-play events. It breaks down data into categories such as Goal, Corner Kicks, Substitutions, Red/Yellow cards, and so on.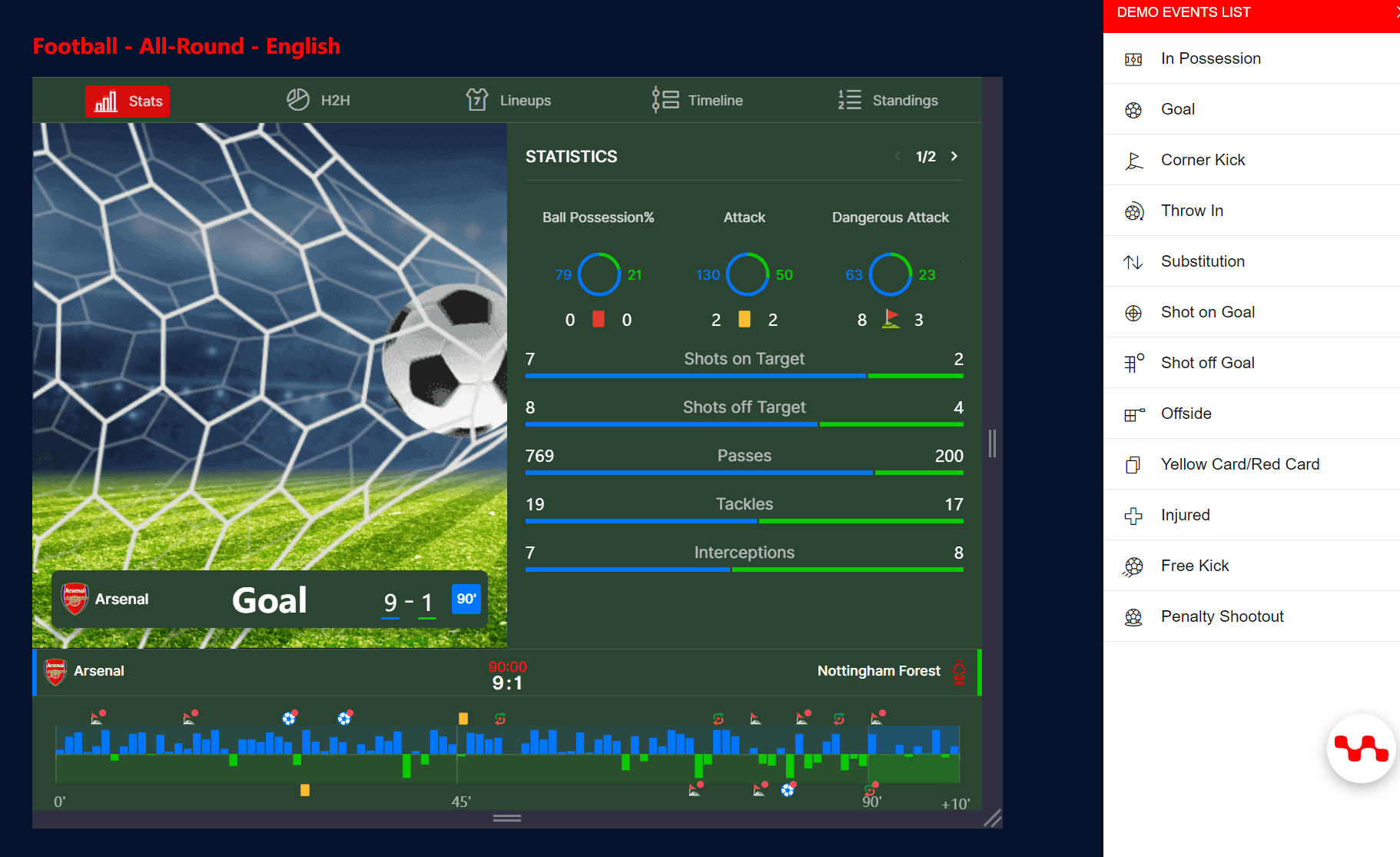 TheSports' Live Tracker widget has the fastest delivery speed in the sports industry. For major leagues like the Premier League, La Liga, Serie A, and more, the data delay has been reduced to millisecond level or zero. Also, the widget has a very low bandwidth consumption and it can work properly in low network speed or bad signal environment. Comparing with streaming videos, the Live Tracker has fewer limitations when you want to attract more users from remote countries or districts.
In addition, the LivetrackerPro introduces screen size adaptability, which means, the widget can automatically adjust to your website or mobile interface, also providing users with the option of viewing matches in full -screen mode. The LivetrackerPro can offer your end users a more aesthetically pleasing through a concise UI &UX interface, and more enhanced and deep stats interactivity through comprehensive content coverage. All those can be achieved by a more simple and more intuitive configuration process.
Let's delve into the newly-integrated five data sections: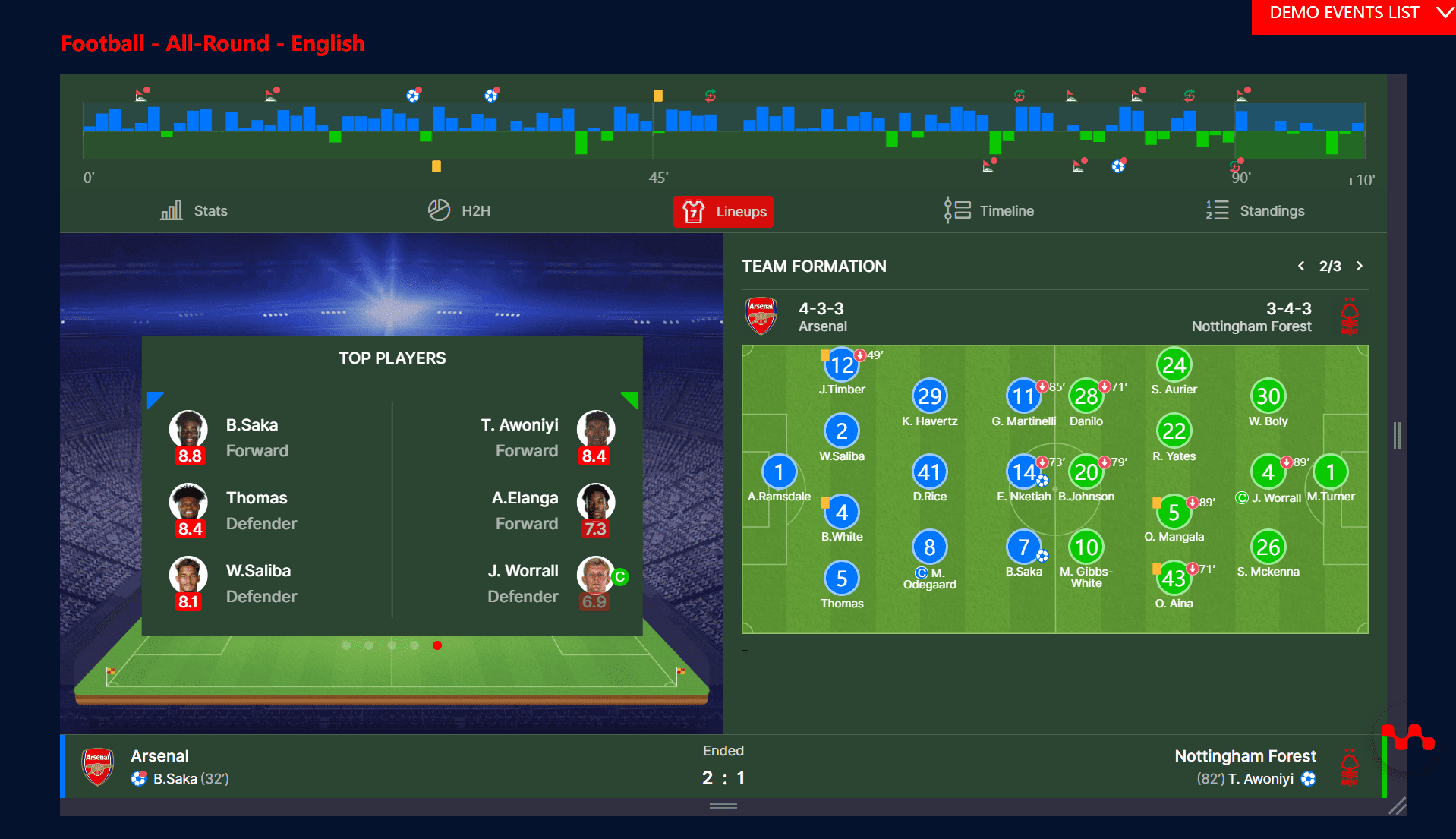 Stats: The statistics section displays key live stats like ball possessions, shots on target, shots off target, dribbles, and interceptions for quick reference.
H2H: Gain insights into historical matchups between the two teams to aid in predictionand decision-making.
Lineups: Access a detailed breakdown of the players participating in the match.
Timeline: Stay updated with real-time event tracking during the match.
Standings: Get instant access to the latest tables from competitions around the world.
Next let's explore the flexible configurations:
The LivetrackerPro offers three view modes including single view, double view, and top-down view for your option. The double-column view enhances end users' access to real-time match and statistical data, improving the overall sports experience.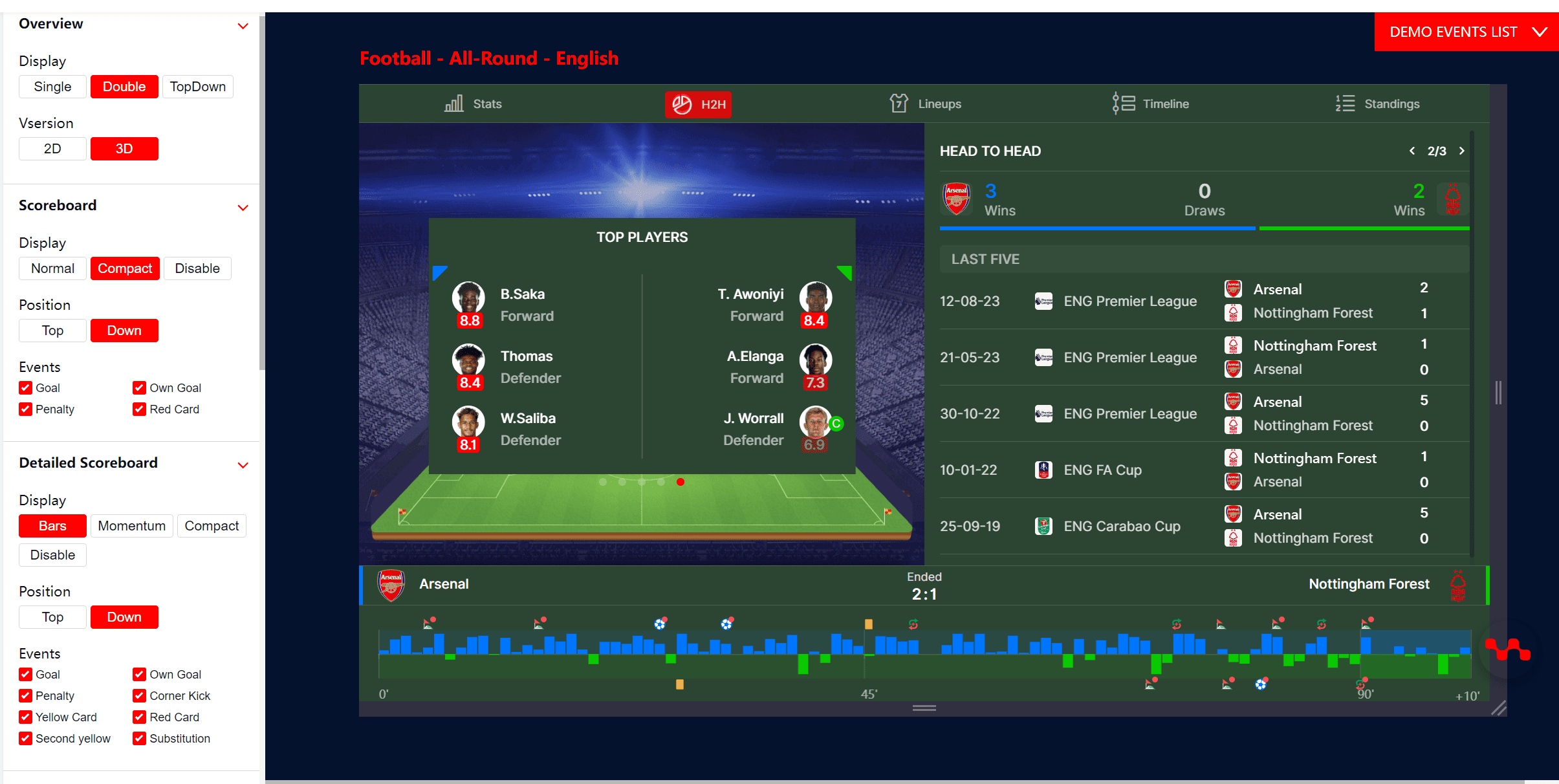 Besides, the display modes of the Scoreboard include Bars, Momentum, Compact, and Disable. You may choose your preferred display mode for data access and visual effect customization.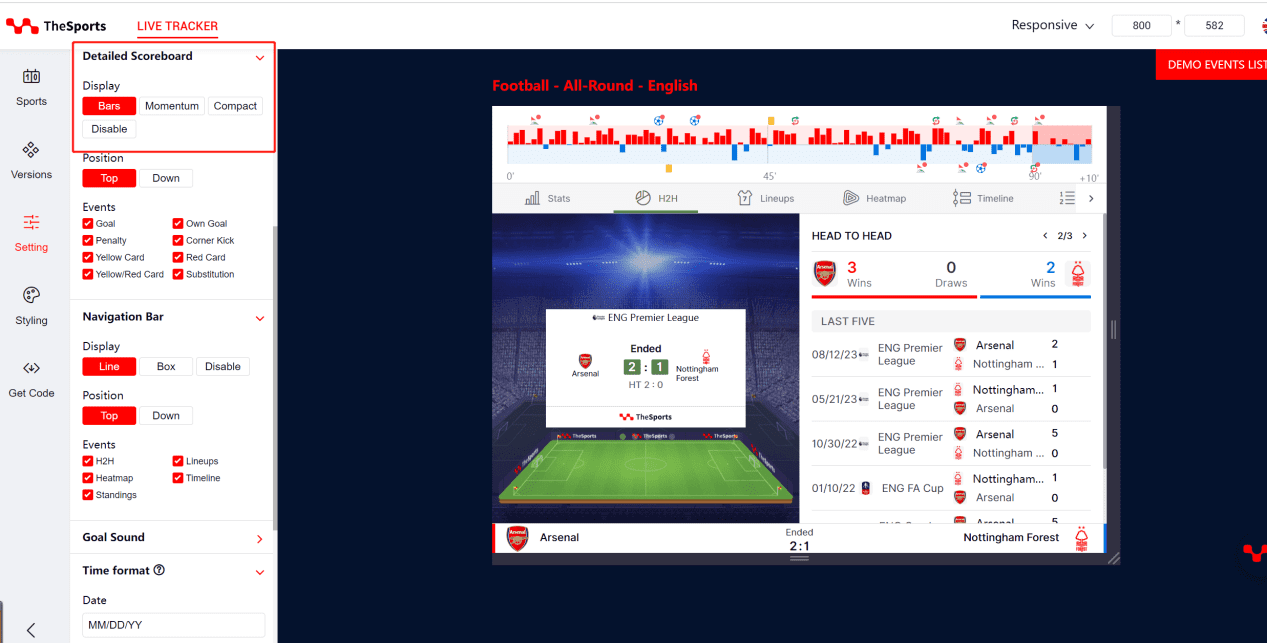 Lastly, the LivetrackerPro supports logo configuration to build brand awareness and activate sponsorships across platforms like the previous version.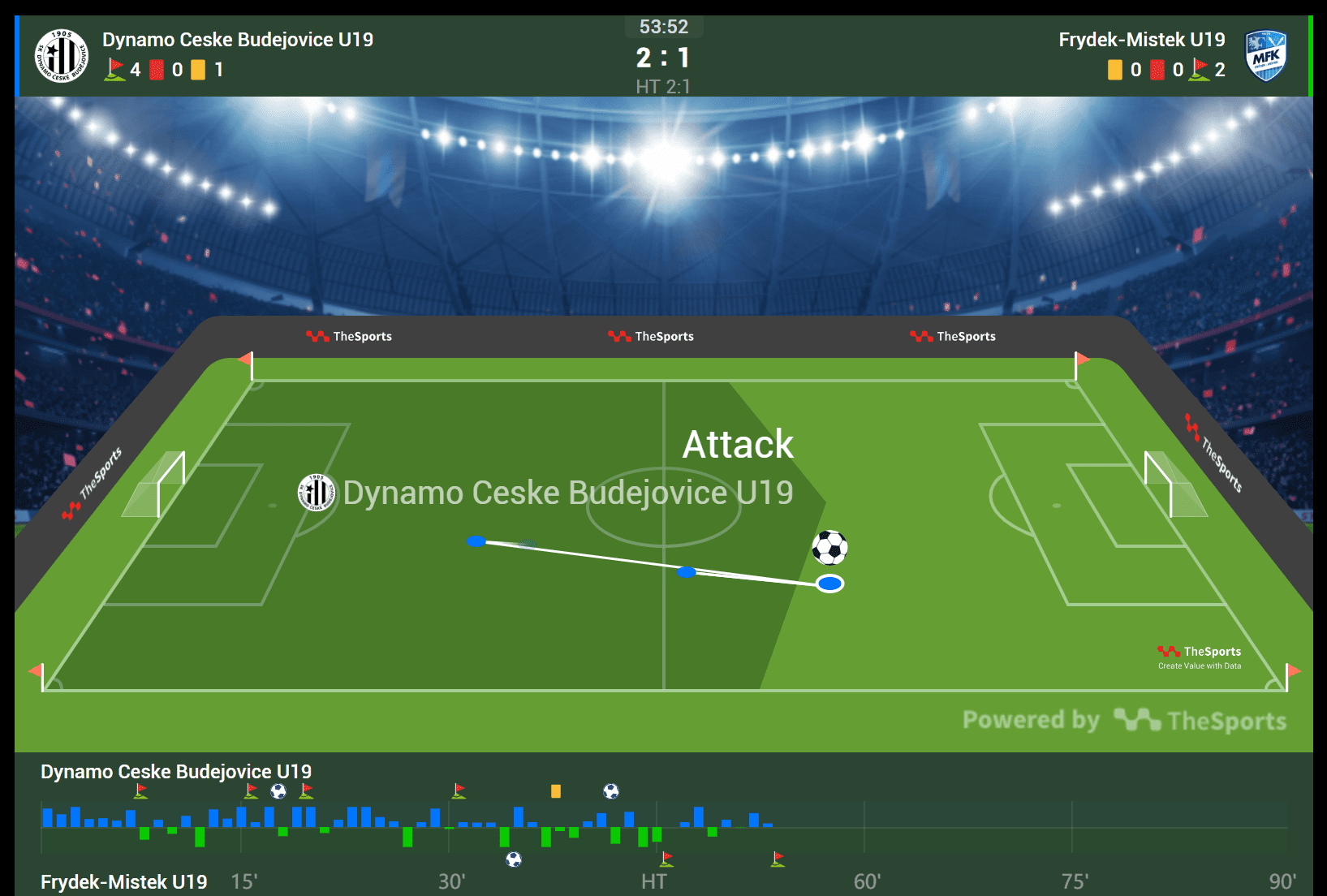 With LivetrackerPro, we're not just tracking sports; we're enhancing the way fans engage with the game. Experience the future of football with TheSports LivetrackerPro. Elevate your sports business to a whole new level of excitement and engagement. Join us in this exciting journey today!