Women's World Cup2023: TheSports JSON API Takes Your Football Coverage To New Realm
The 2023 FIFA Women's World Cup, officially known as the 2023 Women's World Cup Australia and New Zealand, will take place in Australia and New Zealand from July 20 to August 20; first Women's World Cup to feature 32 teams competing in eight groups; England drawn in Group D; Republic of Ireland placed in Group B alongside hosts Australia.
The United States has been the most dominant team at the Women's World Cup, winning four titles in the first eight editions of the tournament (1991, 1999, 2015, 2019). The USWNT has reached at least the semifinals in all eight women's World Cups and has never finished below third place. Germany won back-to-back titles in 2003 and 2007 and is the only other nation to have won multiple Women's World Cups.
Here's part of the standings for FIFA Women's World Cup 2023.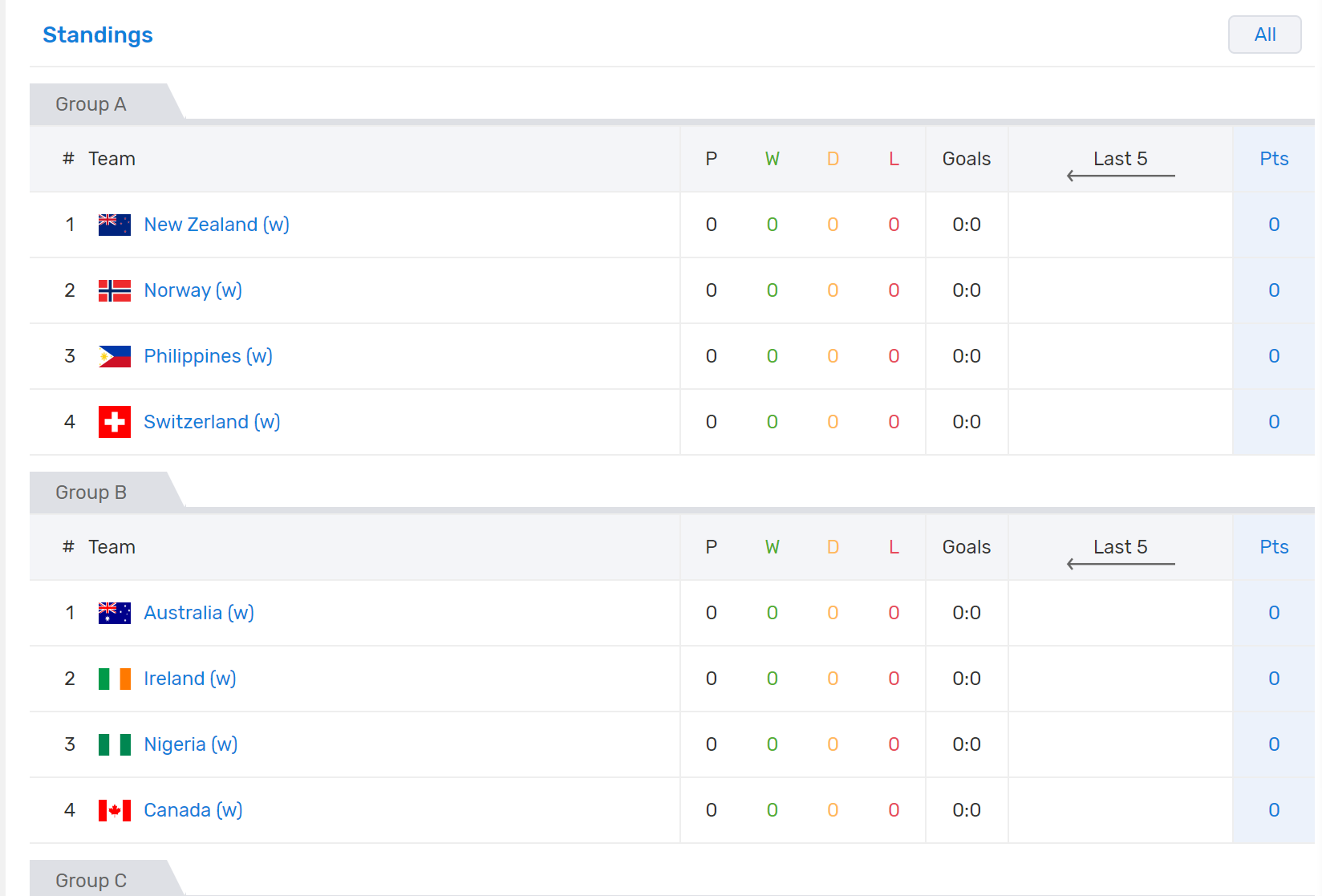 Like every year, FIFA Women's World Cup attracts many attentions and entertained worldwide football fans. Can Vlatko Andonovski's side be crowned World Cup champions once again? Veterans Alex Morgan, Megan Rapinoe and Becky Sauerbrunn are leading the team but there are also some superb young talents such as Trinity Rodman, Mallory Swanson and Ashley Sanchez to watch out for this summer.
In the current post-epidemic era, the world of sports has long since entered a digital transformation.. This transformation has been majorly powered by API-based solutions, AI and ML. This multifold digital transformation is delivering advanced levels of team-specific, athlete-specific, and sports-specific intelligence based on the piles of data that is processed, and increases the understanding of performance.
The team behind TheSports has been working relentlessly towards the aim of making sports intelligent, artificially with data and technology. TheSports is making applications and services using practical artificial intelligence, and developing in-house AI framework, using a completely out-of-box technique. The stupendous work that TheSports offers is very evident from the gigantic list of its customers that are using the APIs and some of the big names include AiScore, Allfootball, Altenar, Globo, Meczyki.pl, etc.
Over the years, TheSports has worked upon various APIs and tech offerings that are extremely unconventional and revolutionary. TheSports' data is available in JSON formats and web-socket, which are fast and easy to integrate.
TheSports football API will provide fast and reliable data feeds including: fixtures, live scores, results, live commentary, standings, team profiles, and much more in-depth stats. Here you will get all that you need.