IPL2023: TheSports Cricket API Takes Your Cricket Coverage To Next Level
The India Premier League 2023 kicks off on March 31 and will end on May 28, with 10 teams competing for the title and 74 league matches to be played during this whole season.
Mumbai Indians have won the title five times, which is the most by any team, followed by Chennai Super Kings' four triumphs, while the Gujarat Titans are the defending champions. The Gujarat team won the title in its debut season last year .
Here's how the points table looks after Rajasthan Royals' win over CSK last Wednesday.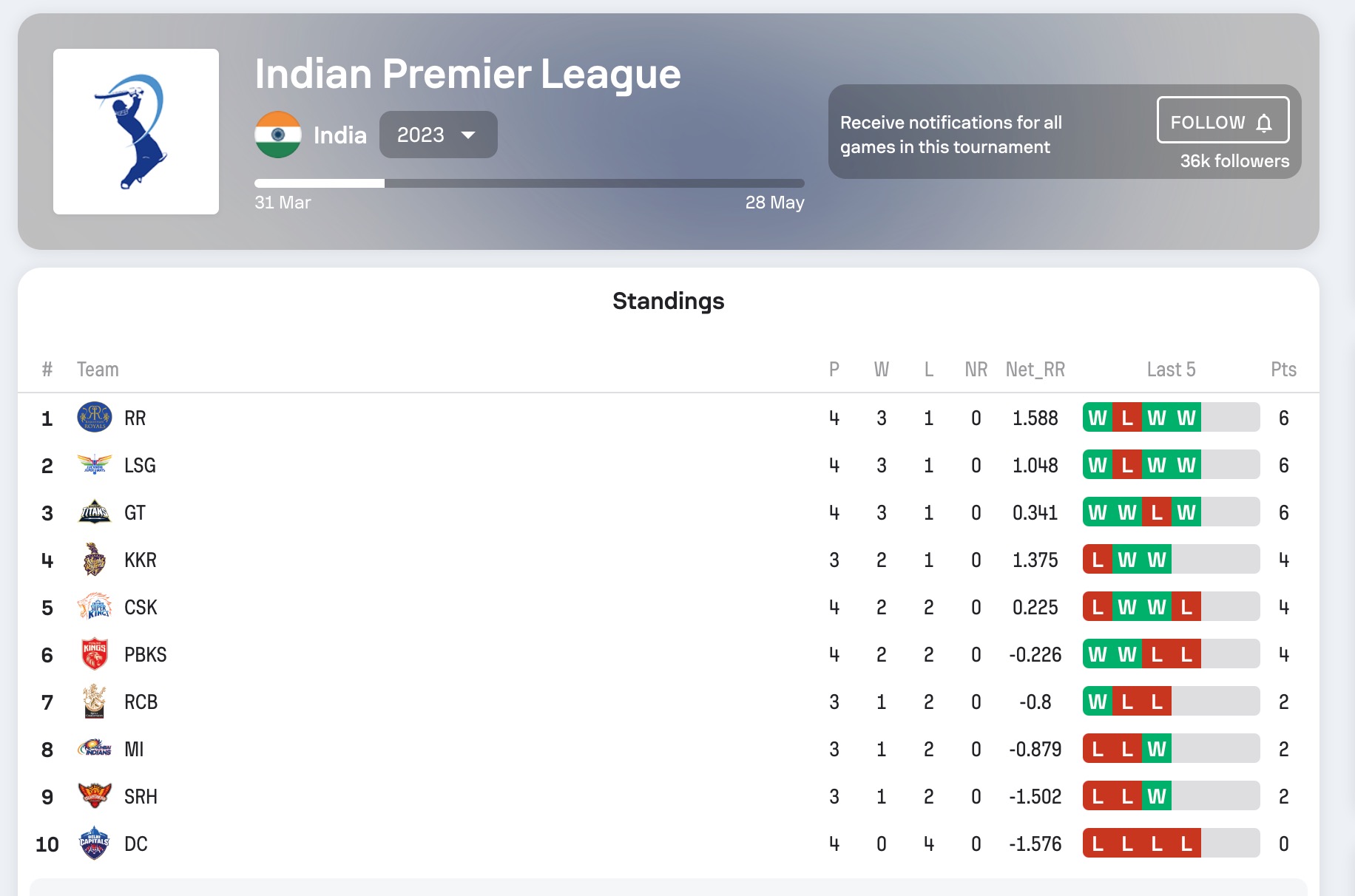 Like every year, India Premier League has attracted many attentions and entertained worldwide cricket fans since the opening day. If you look at the statistics, you will learn that cricket is the second-most watched sport in the world behind football. But unlike football, cricket is only played professionally in a few countries, but where it is played it is hugely popular among its devotees in countries such as India, Sri Lanka, Pakistan and England. So this is an exciting time for the people involved in the business of sports tech and cricket. The sector has humongous growth prospects and the viewers/users appetite is only getting bigger. The constant lookout for a more satisfying sports experience is uncovering new competitive horizons and possibilities.
Just a couple of years into COVID and the world of sports has completely gone into a digital transformation. This transformation has been majorly powered by API-based solutions, AI and ML. This multifold digital transformation is delivering advanced levels of team-specific, athlete-specific, and sports-specific intelligence based on the piles of data that is processed, and increases the understanding of performance.
The team behind TheSports has been working relentlessly towards the aim of making sports intelligent, artificially with data and technology. TheSports is making applications and services using practical artificial intelligence, and developing in-house AI framework, using a completely out-of-box technique. The stupendous work that TheSports offers is very evident from the gigantic list of its customers that are using the APIs and some of the big names include AiScore, Allfootball, Altenar, Globo, Meczyki.pl, etc.
Over the years, TheSports has worked upon various APIs and tech offerings that are extremely unconventional and revolutionary. Some of its key products include -
Cricket Match Odds
While many apps have been developed to predict the winning probabilities in matches for users to make the games and prediction more interesting, TheSports has recently released Match Odds API that can help developers to create crickets apps that could predict the winning percentage of teams. This new release of API is powered by the brilliance of Artificial Intelligence and seems to be a great insight for the developers to work with ease while developing apps for users as the demand rises eventually when the audience for sports increases day by day.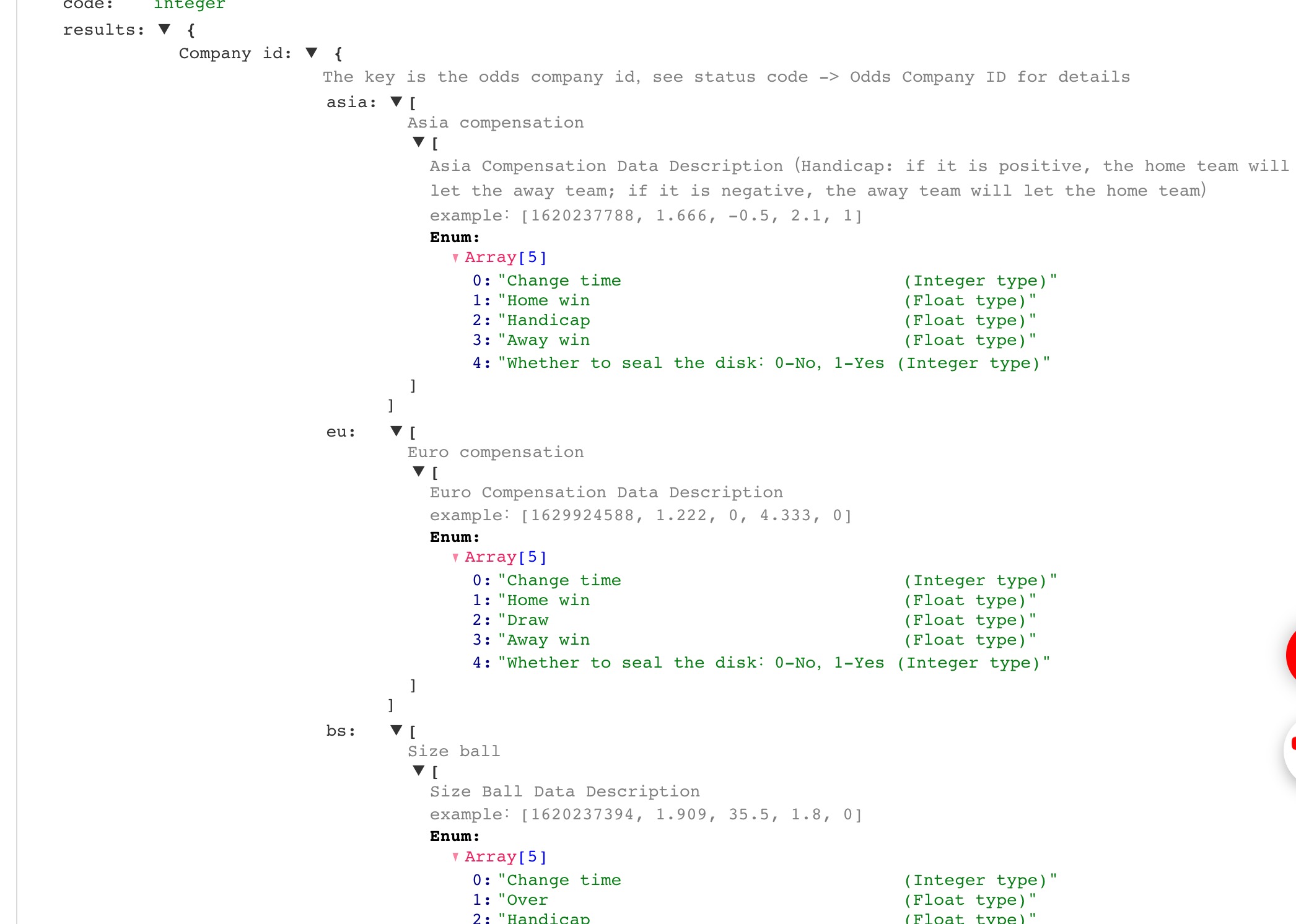 Cricket Match Statistics
TheSports offers a most commonly used method in the sports tech industry for fetching data through JSON API for cricket, this extensive service has been bringing an overwhelming response from the users with instantaneous usage.
JSON APIs for cricket is developed for the users considering to provide the features like:
Time saving with query call made in a query
Getfrequently-updated real-time data through web-socket with no over-fetching or under fetching
Increases the development cycle faster and consistent with simple & unified structure
Adapts and produces data in an understandable format
TheSports Cricket APIs provide real time data on stats and other metrics. The API allows you to get live cricket scores from global leagues including; International (ICC), Indian Premier League (IPL T20), Big Bash League and more. It also provides important information about the Tournaments, Match scorecard, Live match, Schedule, Stats and the Player Stats, Standings for the significant leagues.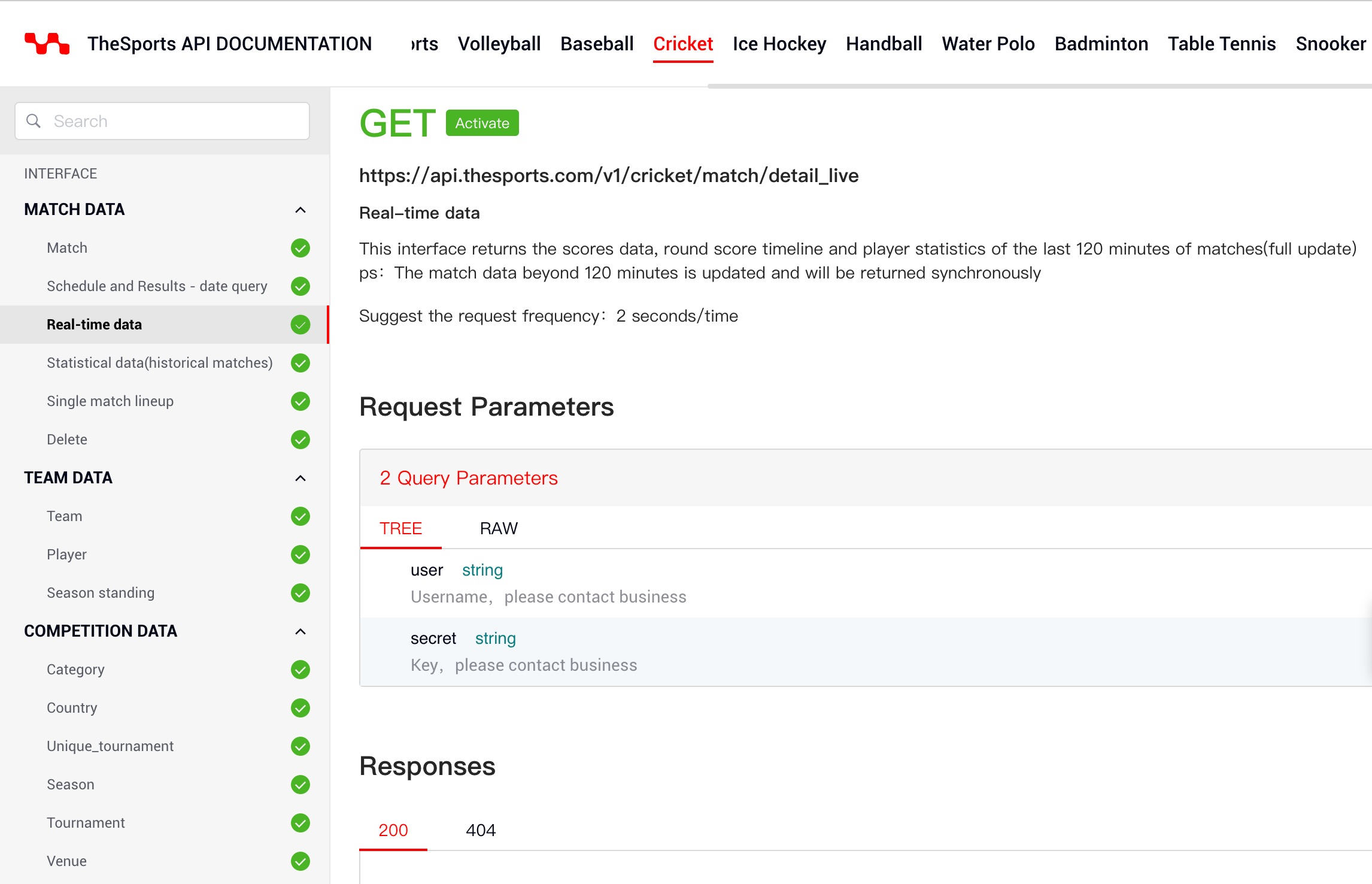 Cricket 3D Live Match Tracker
TheSports introdues the first ever kind of grapgically design-3D Live Match Tracker to bring sports fans closer to the actions. TheSports' Live Match Tracker visualises the game in real time across mutiple sports, including soccer, cricket and tennis. Features like graphically enhanced ball spotting and on-pitch animations bring the action to life.